Growing up in the Mathare slums to owning property in one of the most expensive areas in Nairobi. Through his belief and persistence in life to achieve his goals, Willy has walked through different paths in life and he finally landed his ultimate position in the hearts of his fans.


This is Willy Paul's biography.
Willy Paul Age
Paul Will was born on the 1st of September 1993. He is 26-years-old.
Willy Paul Family
Wilson Abubakar Radido was born in Mathare slums. Will was raised by his father Mr Radido and his mother, Mrs Paul Radido. His father, who was of Ugandan descent, used to work as a carpenter to support his family. His mother, Paul, was an immigrant from Tanzania who worked as a hairdresser in Nairobi. Paul's father passed away in 2011.

Eventually, Willy Paul dropped out of school to take care of his family. After all his efforts, his brother graduated and became a qualified electrical engineer.
Willy Paul Education
Willy attended his formal studies at Brainhouse school, but he dropped out after the passing of his father. He had to assist his mother to get money to support his family. In 2013, Willy enrolled for a KCSE exam where he was assisted by his tutors to be homeschooled.
Also read:
Celebrities wishing their mothers happy Mother's Day
Willy Paul Girlfriend

Willy is dating Babezdyer who used to be a video vixen. After their relationship was known by the public, people had their speculations that the relationship would not last because Willy is a gospel artist and her girlfriend's previous lifestyle was somewhat questionable.




Babezdyer gave birth shortly before she started dating Willy and the musician embraced and took both of them in as his family. Willy assured the public that his girlfriend had changed for the better from her previous life.


Willy Paul Career
Willy Paul released his first hit single in 2010, Rabuka. Learning his way around music, he later co-authored another single Sitolia - where he worked with Muliro.


You Never Know was an album that was launched in 2013 on the 5th of December. He featured giant names in the Kenya music industry such as KICC, graced by Daddy Owen, Ben Githae, Gloria Muliro, DK Kwenye Beat, Ben Bahati, Bahati, Men Of God (MOG), Size 8, Mr Seed, Shiru Wa GP, Betty Bayo, Danny Gift, DJ Sadic and DJ Mo.

One of the popular songs that dominated the charts was Mpenzi" and "Kitanzi", which remained number one for over 10 weeks.
Paul worked on growing his brand and his craft as a creative, the musician was recognized by Talanta Awards which sponsored his tour throughout 12 states in the United States.

The tour kicked off on the 10th March in Sacramento. The musician travelled throughout the U.S and performed in places such as Dallas, Missouri, Kansas. Paul finished his tour on the 27th April in Las Vegas, Nevada.


Through the exposure from the tour, he got the opportunity to collaborate with one of the best Hip-Hop artists in Africa, Khaligraph Jones, on "Bora uhai".
Willy Paul Awards & Nominations
Willy Paul had the best time after releasing his hit song, Tam Tam made him go head-to-head with the likes of Bahati and Size 8 who are giant gospel artists in the country.
He scooped four nominations for the awards with "Tam Tam", a collaboration with Size 8 released in 2014 granting him Collabo of the Year, Video of the Year, Song of the Year and Male Artist of the Year.

2013 - Most Downloaded Gospel Artist at the Mdundo Awards
2013 - Most Downloaded Male Single at the Mdundo Awards
2013 - Male Artist of the Year at the Groove Awards (Won)
2014- Collaboration of the Year with Size 8 on Tam Tam (Nomination)
2014 - Video of the Year for Tam Tam (Nomination)
2014 - Song of the Year for Tam Tam (Nomination)
2014 - Male Artist of the Year (Nomination)
2018 - Male Artist of the Year at the Groove Awards (Won)
Willy Paul Business
He is the Chief Executive Officer and Founder of Saldido International Entertainment (SIE). The record label signs many of the well-known artists in Kenya. This is the record label signed to most of the artists who are active in the music industry, in the country.

The singer, launched his clothing line - Pozze, in 2016, but the business was not a success. This did not dampen his entrepreneurial spirit because he has re-launched his clothing line, Poze and Willy promise to remain relevant in the fashion market unlike previously.

He also started working with Safari Pure Water in 2015 to promote the product and 2020 saw Willy Paul getting endorsed by William Lawson a company that produces alcohol.
Willy Paul Philanthropy
Willy vowed to himself to never allow anyone to go through what he experienced in his life. As a philanthropist, he assists underprivileged families with monthly groceries and has provided them with access to basic education and their healthcare by building a clinic.
Growing up in the slums has made Paul focus on helping those who still live in the streets and are suffering. He continues to assist in society with what he has and he is known to be one of the most well-known celebrities in Kenya.
Paul Will Controversy
According to Paul, when they returned to Nairobi after his father's burial, his family didn't have anywhere to stay. They were offered a place to stay by a stranger in Nairobi but their stay sadly turned Paul into a house boy.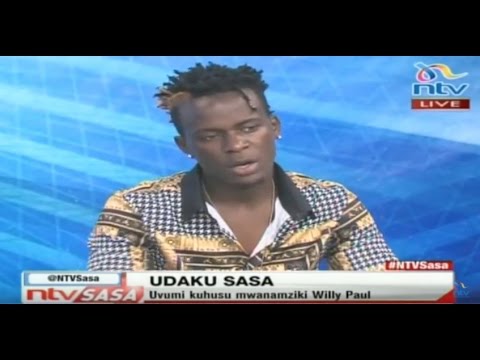 It is something which brings the musician to his emotional state when he talks about the situation,
"I was turned into a houseboy. I suffered so much but I never talk about it. I don't even know how to talk about what went down. I would have narrated it but I do not know how to do so
," said a traumatized Willy Paul.
After gaining recognition with his hit song Sitolia with his mentor, Muliro. The duo later faced the controversy on social media with claims that Willy was not earning all his royalties. It was claimed that his mentor, Muliro - was the one who owned all the rights of Willy's songs. The business partners ironed out their differences and continued working together.
Willy Paul and Bahati seem not to be in good books either as Willy has come out guns blazing to set the record straight. This comes after
Bahati
claimed he wrote songs for Willy Paul before making it big in the industry.
This follows after the Bahati posted a throwback snap of him and Willy Paul attending the Groove awards and said, he used to write songs for him. This sparked a huge debate and many have been waiting for Willy Paul to respond to what
Bahati
has said.
Willy took to Instagram to set the record straight and said Bahati has never written songs for him. Willy Paul went to say that Bahati is losing his memory and Diana must help him.
Willy Paul continues making music and protecting the peace of his marriage as he believes everyone can change their path. He remains with his upbringing moments in his heart but works on bettering his life each day.
Read next:
Stella Mwangi Biography: Age, Family, Education, Career, Awards, Controversy, Philanthropy, Net Worth

Main image credit: Instagram