Prepare for
Tanasha
like you've never heard her before, in surroundings you've never seen her too.
Read more:
Eric Omondi Is 'Dr. Ring Ding' In New Spice Diana Vid
The sultry singer is back with a banger of a new track. And this time instead of slow crooning, she exercises her rap skills and impressively manages to keep up with seasoned rapper Barak Jacuzzi who features in the new song called Karma.
Tanasha dropped the audio track and video all on the same day. And the video is a stunning contrast to the image we have of Tanasha so far. Shot in the belly of Kenya's largest slum of Kibera, Tanasha brings the bustling hood to a stand still with her stand out outfit and uptown chic.
Read more:
Corazon And Frankie's Secret Romantic Getaway
If the song sounds kinda familiar, it's because you may have heard snippets of it before. Tanasha had teased the song back in June during her mini French hiatus. She was in Paris for a couple of weeks to tour and to also record some new music. Other than
serving her fans with stunning looks
, she also previewed audio from what we now know is the Karma song. The song is Tanasha like you've never heard her before as she raps over a Drill-type beat.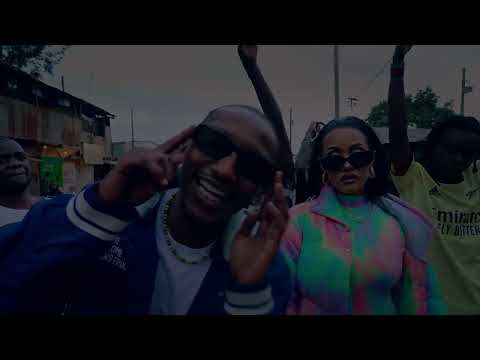 Read more:
Anerlisa - "I Live With My Parents"
Dressing for the occasion
In the lead up to the release of Karma, Tanasha turned up the heat on her Instagram. In a series of pics, the star wowed in a black outfit complete with a sheer top, and a waist high slit skirt.
The stunning ensemble showed off Tanasha's enviable figure, while highlighting her long legs and drawing attention to her flat tummy and curvy hips.
Read more:
Tanasha Donna's Instagram Is A Thirst Trap!
Tanasha had also silently updated her old Instagram profile picture. In place of it, she used a poster for the new song Karma, which featured Tanasha's face behind a black ski mask.
Tanasha's tattoos
We decided to scrutinize five of Tanasha's tattoos and unravel the hidden meanings behind them.
The mother of one has a tattoo on her left shoulder that reads "Pour l'amour de Dieu" which is a Frech phrase that translates to 'for God's sake or 'for the love of God depending on who you ask.
Read more:
Sonie Exposes The Ugly Side Of Mulamwah
The tattoo means that the person who bears it loves God is aware of it and not afraid to show it.
Tanasha's second tattoo reads 'Diana'. I'm sure you are wondering what this means but she got it to pay homage to her mother Diana Okech who lives and works in Belgium.
Apparently, the two are pretty close and it's not a surprise that she tattoos her name on her left shoulder. So cool, isn't it?
Read more:
Gee Planning To Move In With Stevo Soon
She has another tattoo on her back that reads Psalms 6:9. If you went to Sunday school regularly then I am sure you are familiar with this Bible verse.
According to the New International Version (NIV) Bible, it reads "The Lord has heard my cry for mercy; the Lord accepts my prayer."
I'm not a very religious person but I know the verse is often quoted or used when someone is going through a difficult time to assure them that there with be light at the end of the tunnel because God has not deserted them.
Tanasha has another tattoo that reads 'faith' across her right inner wrist. A few years ago she explained that she explained that it demonstrates her strong belief in God.
Read more:
Why An Old Andrew Kibe Video Is Breaking TikTok
"Every time I count my blessings, my love for God grows bigger and every time I count my struggles, my faith in God grows stronger," she stated.
Her fifth tattoo is also on her arm and it reads 'G>∧V' and it simply means that "God (G) is greater (>) than the highs (∧) and the lows (V)'. The arrow simply shows the direction of reading the symbols.
Okay, I also didn't know what it meant at first but after Googling (of course) I was so impressed. I am definitely getting one like this one.