Growing up, Size 8 showed her interest in music and would sing at church, school events and eventually after her secondary studies, she started singing professionally.

Finding her feet in the industry, Size 8 finally decided which genre she wanted to follow and that was Gospel music.

Size 8 is a family woman, entrepreneur, singer and an entertainer.

Here's her biography.


Size 8 Life Documentary

Her got the privilege of catching a glimpse into her life story on her new life documentary dubbed, 'Dem Wa K-South.' Her music journey starts in the secular music sector under the stage name 'Linet' before she releases her hit song 'Size 8' that changes everything.




Wanna know more about Size 8? Be sure to tune in.


Size 8 Age
Linet Masiro was born on the 4th of August in 1987. She is 32-years-old.


Size 8 Early Life
Size 8's real name is Linet Masiro Munyali.

She was born and raised in the Maringo Estate, in Nairobi.

Size 8 is the 6th born of 7 children and her parents are Samuel Kirui Munyali and Esther Njeri. Both of her parents are members of the clergy.


Size 8 lost her mother, Esther Munyali due to a kidney-related illness a day after she 8 gave birth to her first daughter, in 2015.


Size 8 Education
Size 8 had her formal studies at Dr Livingstone Primary school where she came top in her class in the Kenya Certificate of Primary Education (KCPE). For her academic excellence, Size 8 received a scholarship to attend State House Girls.
After State House Girls, she got another scholarship to finish her secondary education at the prestigious Hill Crest High School, which is owned by veteran Politician Kenneth Matiba.
During an
interview
she revealed that she never went to university because of financial energy.
"I never went to university because we did not have money for my fee but I was given a scholarship and I completed my form six at Hill Crest. After I finished my A-level my father told me that there was no money to take me to university and my brothers had to go to school."
Size 8 Marriage
Size 8 is married to the well-known award-winning gospel producer, disk jockey and entrepreneur, Sammy Muraya Junior who is well-known by his stage name,
DJ Mo
.
They have been married since 2013, and celebrated their 7th anniversary in 2020.
Dj Mo describes
how when he met Size 8 through a friend they became good friends, and he soon became her mentor for the gospel singer.
"She's an exceptional person, and I remember even when she sang secular music; she always had this immense desire to be born again. She kept telling me that she loved God so much and that she wanted someone to help bring her closer to God. I become that person!"


The couple are blessed with two kids, a girl called Ladasha Belle Wambui born in 2015 and a boy, Sammy Muraya Junior born in 2019 who is named after his father.

Before conceiving her last born child, Size 8 was said to have lost a child through a miscarriage.


Sharing the problems she had while pregnant, Size 8 posted on social media,
"My baby is a miracle from God, a sign of his power in my life. My pregnancy was full of problems. I almost lost her several times to the enemy. The devil fought her so much. But God fought back for her. This is my testimony of God's faithfulness in my life. Don't be afraid in any and every situation God is powerful to give u victory. Hallelujah to our God…"

Also read:
Lupita Nyong'o Biography
Size 8 Career
Size 8 was discovered by Clemo, a Kenyan producer and co-founder of Calif Records where she auditioned locally.
Her debut singles are Shamba Boy, Silali and Vidonge which were both released in 2011.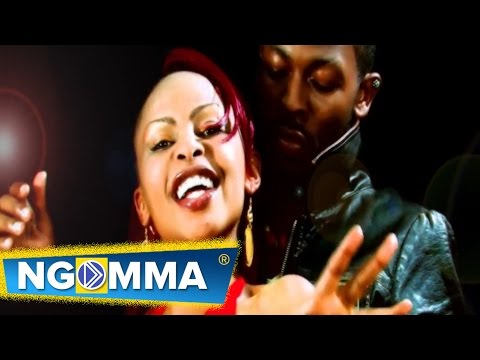 In April 2013, Size 8 crossed over to gospel music industry after being baptized and subsequently she released her first single, Mateke.


Size 8 has released other singles like Moto, Yuko Na Wewe, Jemedari, and Afadhali Yesu.


As Size 8 was venturing deep into the gospel music genre, she simultaneously got herself into acting. When she was with Ralingo, Size 8 described how she wanted to become the first Kenyan musician to be an actress and a singer at the same time.


Size 8 had this to say about being on television and music,

"That was all planned by the way. I wanted to be the first Kenyan musician to be on TV at the same time the most. You switch on your TV and find a 'Bonyeza Ushinde' advert I have done, then my music plays in a music show, then see me acting and host a show on different occasions, and it was lovely seeing that work very well."

Besides her music and her acting, Kenyan power couple Size 8 and her hubby DJ Mo, are set to give their fans a front-row seat into their lifestyle with their new reality showon the Nation Media Group's NTV, which will be called Dine with the Murayas.


Size 8 Awards
Size 8 was signed under Calif Records.
In her interview with Ralingo
, Size 8 shared that she will always be grateful for the opportunity she had with Calif records,

"Other than God, there is Clemmo of Calif records, who gave me a platform to record music when I was zero. I also work hard and appreciate everyone who supports me and my music, especially my family."
2014 - Video of the Year for Mateke at the Groove Awards
2014 - Female Artist of the Year at the Groove Awards
2014 - Song of the Year for Mateke at the Groove Awards
2017 - Song of the Year for Pale Pale at the Groove Awards
2019 - Music Video of the Year for 'Ni Tembee Na Wewe' at the Groove Awards


Size 8 Brand Endorsements


Size 8 has brand endorsements from Soft Care which is a Kenyan skincare company. She is also the face of Kleesoft.




Kleesoft is a washing powder and Asamoah Gyan is also the brand ambassador.


Size 8 Controversy
Size 8 and DJ Mo were faced with some challenges when there were rumours that DJ Mo had been faithful.

Before the news spewed out of control, Size 8 released a public statement denying the claims.

"It's not true. My husband has never stepped out of our marriage. Those are just rumours from people,"


After being featured on the new song by Masterpiece, High Bila Ndom, Size 8 faced criticism from fans and started questioning the direction of her music.


Fans expressed their disappointment on the YouTube Channel after the song was released saying that her music has always inspired and touched people but this one sounded like a joke and that it did not covey any meaningful message.


Size 8 Net Worth
Size 8 is estimated to be worth over $300 000 through her performances, booking, acting and other investments.
Size 8 explains in her interviews that she isn't about the materialistic life as she has seen the other side of living life as a middle or lower class, she intends to use her money to benefit society.
As a gospel artist who delivers the gospel through her music and teachings, she also intends on delivering the good gospel of giving back in society and become a giant humanitarian in Kenya.
Read next:
Kenyan Power Couple Size 8 And DJ Mo Have A New Show Coming

Main image credit: Kelebrity.com