Nadia Mukami
is on cloud nine today thanks to the success of her latest song. The singer has posted a celebratory video to her Instagram in the wake of
Kai Wangu
going number one on YouTube in Kenya.
Kai Wangu
has quickly shot up the trending list, eventually settling at the very top today, just five days since its release.
Nadia teamed up with hubby Arrow Bwoy to release the
Kai Wangu
video, a dedication to their newborn son. This is Nadia's first hit single in many months since she took a maternity break earlier in 2022.
"Alililililililili!" the 25-year-old singer exclaimed, adding a message to her fans, "Thank you guys for making
Kai
the number one trending song in Kenya. God bless you all. Mungu awabariki sana."
From TikTok trend to YouTube hit
Four months after its debut, the audio-only song, which gained a lot of attention and TikTok challenges has amassed over 800,000 views on YouTube. Fans were impatiently waiting for the video hoping to catch a glimpse of Nadia's lovely son Kai. Nadia published the song following the birth of her son.
The opening scene of the song displays a beautifully furnished kid's room with a baby cradle, shakers, and balloons. Then, the scene cuts to a pregnant Nadia who appears to be in labor. Arrow Bwoy calls what appears to be the hospital, where she is brought in an ambulance.
Throughout the song, Nadia and Arrow Bwoy are heard making promises to the boy. They both promise to work very hard to provide for their baby. Well, the child is the lucky one to have two famous parents.
"Ata dunia ikugeuka baby sitakuwacha solo." Arrow Bwoy tells his son Haseeb.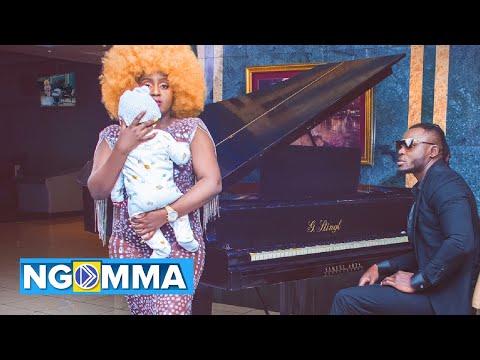 The two have worked on several songs together, they recently amazed fans after performing together at Kasarani stadium during the inauguration of the fifth president of Kenya, William Samoei Ruto.
Nadia Mukami Opens Up On Tough Journey After Giving Birth
According to the Lola hitmaker, no period is more difficult than what women go through after delivering their babies.


Nadia noted that while pregnancy is a walk in the park, post-partum i.e. the period after putting to bed takes a toll on many women. She lauded African women for being strong and not yielding to people's demands to give away their babies.


"I think most places need to focus on postpartum. Pregnancy is easy (I think it's easier compared to that period after giving birth).
"Sheesh! Women are strong and we black/ African women are not allowed to say this. Utaambiwa leta mtoto ni/tulee kama amekushinda," she wrote.
Further, the musician explained that she never understood what post partum was really about until she had a baby.
Nadia, whose son turned four months old on Sunday, asked her fans to check on new moms and give them the support that they need.
In May this year, during a Q & A session on her Instagram page, Nadia revealed that although she has had a good time raising her son, Haseeb Kai, the experience has had its fair share of challenges.
According to the musician, raising a newborn baby required her to eat enough food to be able to provide milk for her child.
"I had never been heavier than 55Kgs but now I am 63kgs because I am breastfeeding exclusively so I have to eat a lot every now and then. It is a sacrifice because I don't want to lack milk.

"Breastfeeding is work. It's not as easy as it seems. Actually, you gain more weight during breastfeeding than during pregnancy," Nadia stated