Nimeskia what they are doing to him and the brother and we wish him well. Edgar manze endelea tu kupush tunakungoja urudi kwa mtandao. Hatujawahi ongea na Edgar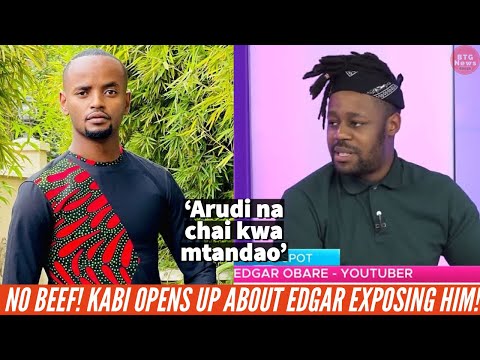 In case you are not familiar with this, let me refresh your memory a little bit.
The tea master has exposed a number of celebrities now and then, but let just be honest,
the one that involved Kabi seemed to be errr- a lot, for lack of a better word. He was exposed for siring a child with one of her cousins. At first, he denied the accusations but after the DNA test revealed otherwise, he decided to come clean and tell his followers about his plans with his child, Abby. Still, at Mr. Seeds's album launch, the interviewer asked how far they are as far as baby Abby is concerned. To which Kabi said:

Itakua tu. Tukianza tutawaambia
Mr Seed's album launch was filled with glitz and glamour! Did you see how everyone looked fine and amazing?
Kabi showed up looking really great. But one thing fans couldn't help but notice was that Milly Wa Jesus was nowhere to be seen. Kabi steeped into the event solo. But that didn't mean he was going to look shaggy, even though Milly was not by his side. He was wearing black African attire with a little bit of red here and there. He looked amazing! Now we can see why Milly married him and won't let him go any time. He had to point out the cost of his shoes and said that they were fifteen thousand Kenyan shillings. With this economy, Kabi can still send such an amount on a pair of shoes? Ah! I want to be an influencer too!
Nowadays, he seems to be focusing more on God, his wife, and his son and as an influencer.