Hamisa Mobetto
is clearly winning and she has some heavy hitters in her camp. Rick Ross the Boss is one such supporter and we are amazed that when she talks about having friends in high places, she really means it. We are so jealous!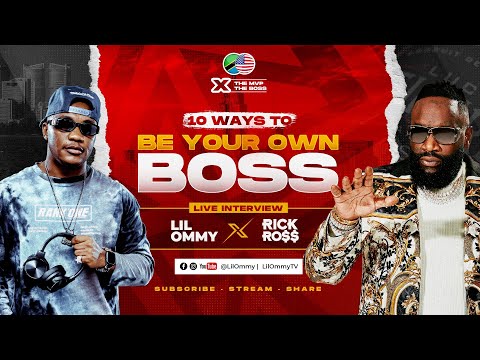 The rapper was recently interviewed by fellow Tanzanian vlogger and media personality, Lil Ommy who asked him about the nature of their relationship. Are they dating? Are they an item like everyone assumed? Rick Ross responded by saying they have some projects they are working on but he will not divulge too much information as he thinks she should be interviewed and it should be
Hamisa Mobetto
herself to reveal such details.
"I have to be honest, there is a connection. There is. How much Imma tell you about it, Imma leave that to her. So I want you to make sure you do an interview and you do it with her. But she's such a beautiful person and a beautiful spirit and such a big entrepreneur and I wanna help her take it to the next level because she's doing a great job and I am proud of her but it's a lot. And now everyone is wondering just what the project is. There's a lot of things I wanna see her accomplish. I wanna see her win, win, win."
We are all excited to see these projects they are working on. But it is clear that Rick Ross is eager to mentor
Hamisa Mobetto
and he is really feeling their relationship.
Speaking of whom, this is really a
good look
for Hamisa Mobetto as most of the assumptions about what it was that they were doing was romantic. We had seen all the comments and emojis Rick Ross would leave under her comments and this fueled the rumours.
And it would seem they knew exactly what they were doing as they continued to fuel the media frenzy around their friendship. She would post photos on Instagram and Rick Ross would respond with comments such as
"You are moving to US".
We were all taken in by the playful banter as Hamisa Mobetto responded "
All my bags are packed. I'm ready".


Read more:
Mama Diamond Finally Embraces Hamisa Mobetto
We are happy to see
Hamisa Mobetto
get the chance to grow as an entrepreneur. And there is an opportunity to keep growing even as an artiste because Rick Ross said the African wave is growing bigger and bigger in America meaning it's our time!
I am so excited! We would really love to see a Hamisa Mobetto and Rick Ross collaboration. Wooh! That would be something of a win for
baby girl
. After all, he said he would look forward to doing more collabos with dope African artists who are on the same frequency as he is.
Get that bag baby girl! Go get that win. Hamisa Mobetto to the world. And the sky is the limit because we can imagine her getting into the liquor business as Rick Ross' African partner or perhaps even African fashion.
For more hot entertainment content,
click here
.