You are probably wondering why I came up with that title? Yeah, trust me it means exactly what you are thinking.
Eric Omondi is on a gifting spree.
Ni kama pesa inamuasha.
Honestly, that is the only thing that I can come up with right now.
If you have been following Eric Omondi lately, I'm sure you have already realized that
he has been gifting people left, right, and center. Remember Oprah's famous line? You get a car, he gets a car, everybody gets a car! Man, how I wish I was in one of those shows, I'll probably be cruising with my Prado or something. Oprah needs to come to Kenya for an episode and trust me I'll be the first one to attend!
Eric Omondi is currently Kenya's father Christmas. It seems like this is a
good year for him especially after he was gifted a Chrysler by businessman Jimmy Wanjigi.
So popular Dj Kris Darlin celebrated his birthday a few days ago and you wouldn't guess what he did! He gave the DJ his Chrysler and told him to have it for the night and then he could return it the following day! Wow Eric, I don't think I would even lend my probox to anyone even if it is just for a few hours. But here you are, GIVING OUT you CHRYSLER? Can never be me!

Nataka kueka minimum wage for any artist anajulikana. Lazima walipwe 500,000. Mimi nataka kusema apa, na sio kiki… On Tuesday, kujeni na mkuje na hawa watu wa camera. Mimi natoa 500,000… 500k inatoka kwa mdosi wangu. Hapa sio politics. Nishaambia Mr. Seed na nimekuambia. We will give you guys 1 Million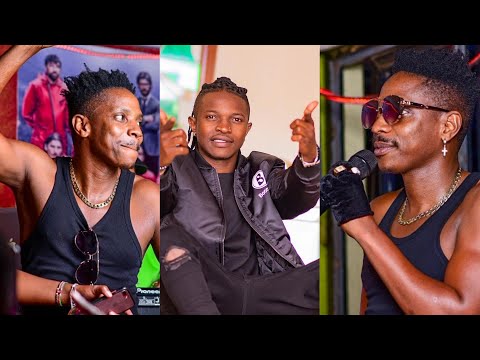 As if that is not enough! On the same album launch, (at this point I wish I had covered the event! It seems like I would have gone home with something you know!) Definitely, I'm not going to miss any other album launch in the future.
Good things are happening there.
The comedian gave the journalists present some thirty thousand shillings to share amongst themselves! What a happy day.
It was a good day for Safara Gathimiti, a group of musicians that were former street kids. Eric gave them his silver chain, his pair of sneakers that are estimated to be worth eighty thousand Kenyan shillings, and lastly, he took off his shades and handed it to one of them. Hehh Eric! Feeling all generous?