George Waweru is a Kenyan Dj and VJ popularly known as Dj Kalonje. He is a man of many profiles; music producer, video director, farmer, father, and businessman.




He took it upon myself to learn the art of deejaying through an entertainment company called City Rollers, based in Nairobi between the years 2006 and 2008.

He is known for his wicked mixes such as Street Locked Mixes which made him bag Chaguo La Teeniez(CHAT) Award in 2010. He has been active in the industry since 2010.

Here's a look at the King of Matatu mixes's biography, DJ Kalonje.


DJ Kalonje Age

He was born on 3 January 1987 in Nairobi, Kenya. He is 33 years old.


DJ Kalonje Early Life

His father died after succumbing to an illness for quite some time. He said his father was an affectionate, principled family man who raised him well. In a post on Instagram, he had this to say;


"Dear Dad, I just want to thank you for everything, you raised us on one principle, love is the answer. It's with disbelief and sorry I say goodbye to you. May you rest well. I will take care of Mum for you. Till we meet again,"
DJ Kalonje Relationship

The DJ has always kept a low profile when it comes to his life. DJ Kalonje met the love of his life Sonnie Kangai in 2012 and the couple had two children together.




Taking his love to a whole new level, DJ Kalonje got down on one knee to propose to Sonnie. He did this whilst they were on vacation in Dubai and he captioned a pic he shared on Instagram; 'She said yes'.

Sadly the relationship did not last and he broke up with his Fiancee Sonnie Kangai in 2019 after being in a relationship for seven years. He shared the news on his Instagram saying that the years spent together were worth it and he wishes happiness on her.


"I just had one priority in our relationship- YOU. The problem was that we both had the same priority. All I can say is the seven years was worth it. Wish you good luck in all your endevours. May you find happiness." he captioned.


DJ Kalonje further that revealed that he has no plans of being in another relationship after his breakup with Sonnie.


DJ Kalonje Career

He began his career by hawking his mixtapes to anyone who would care to buy them back in 2006.

DJ Kalnonje say on a number of times, he was arrested by the city council, because he was not licensed to be selling the mix tapes.

"I would walk around with a black book and write down contacts and as time went by my list grew bigger." he recalls

He used to sell the mixtapes at Sh50. Those mixtapes soon found their way in Matatus catapulting him into legendary status in the Matatu industry.


After some time, DJ Kalonje became popular and he was enouegh to cross over into mainstream deejay territory and today is considered one of the top deejays in the industry.

But even though he has made it, getting respect from "them" (established deejays) is something he and most of Matatu deejays do not get.

"I'm a club deejay but my brand was built by Matatus. (Media) deejays do not recognise us as real deejays because they made a name for themselves on television or radio", he said


"Some even call us street deejays, but that doesn't bother me. It's however easy to work with Crème and Mfalme but there's still a gap. Whatever platform you have, that's yours and it doesn't make you any less of a deejay,"

In 2017, Kenyan DJ Kalonje, Chipukeezy and YY the comedian made history after being the first Kenyans to be interviewed on the BET Awards Experience.

In 2019, DJ Kalonje performed at the Dubai 7s with dancehall artiste Konshens.

Stardome Entertainment Marketing Manager Brian Livity said in a statement, "We have been consistent in delivering our promise to fans over time. This year we'll take the bar higher with Konshens."

The previous year, Kenya had been represented by Homeboyz Radio, G Money and ZJ Heno.


DJ Kalonje Awards & Nominations

In his career as a DJ, he has collected the following awards and nominations

2010 - Best DJ at the CHAT Awards (Won)
2010 - Best VJ at the Nganya Awards (Won)
2011 - Best DJ at the CHAT Awards (Won)
2017 - Mashujaa Awards
2017 - Best DJ in Africa at the AFRIMMA Awards (Nominated)


DJ Kalonje Controversy
It was under unclear circumstances when DJ Kalonje had his father's house demolished in 2017. DJ Kalonje's studio was part of the house looted by unidentified raiders and millions of shillings were lost.
He then relocated his studio to Pangani following the controversial demolition of his multi-million shilling investment worth Sh7.5 million.
According to the DJ, the people responsible for the demolition were armed with machetes and crude weapons. He says they manhandled his father, looted his studio equipment and destroyed his property.
A number of people have had a fair share of rejection from the fave celebrities, but there's a quite a few encounters when a celebrity has rejected another celebrity. DJ Kalonje had such a run in with
Huddah Monroe
and let's just say he was not pleased.
Dj Kalonje apparently met Huddah in a club during one of his gigs. One would expect the socialite to at least give the influential DJ some attention but it was the opposite.
DJ Kalonje only wanted a selfie, but Huddah seeme to be interested in other things and did not give DJ Kalonje the time of day.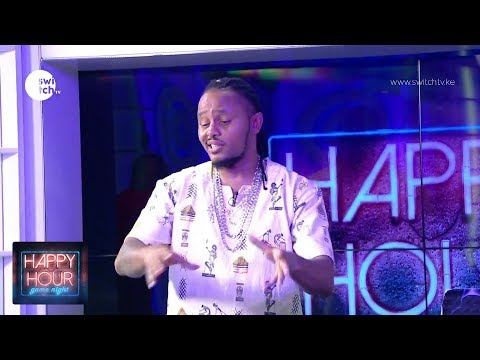 The DJ clearly expressed that he was not happy and he hates Huddah. Ouch!
Also read - ''It Is Hard.''- Anerlisa On Dating Ben Pol
DJ Kalonje Business

DJ Kalonje owns a DJ Academy called Mixmasters located within Nairobi's Pangani estate.

The academy specializes in grooming young , upcoming and aspiring local deejays for a three month course that costs Sh30,000.

Besides being a DJ, he also ventured into the farming business.


DJ Kalonje Net Worth
His hard work has seen him play across international borders.
He certainly does not come cheap when it comes to his gigs.
Known as the king of Matatu mixes, deejay Kalonje, has a quotation of Sh250,000 to Sh350,000 for corporate events, Sh100,000 to Sh150,000 for campus parties, Sh50,000 to Sh70,000 for club gigs within Nairobi and Sh80,000 onwards outside Nairobi with all other expenses paid for. For out of the country tours, he charges $2000 (Sh170, 000), all other expenses paid.
However, his exact net worth is still not known.
DJ Kalonje is on of the most recognized DJs in the country and it seems he is not about to stop anytime from giving his fans some feel good music.
Read next:
Sauti Sol Biography: Age, Band Members, Career, Discography, Awards & Nominations, Controversies, Net Worth

Main image credit: KELEbrity.com