Judy Nyawira, wife of popular Actor, scriptwriter and Youtuber Abel Mutua aka Mkurugenzi recently had an interview with SPM BUZZ and talked about her journey as a wife, mother and a creative. She revealed some interesting bits about her family and working with
Njugush and his wife Celestine
.
On her new
life in the limelight
, she explained that for a long time she was just working in the background and did not mind not being known while her husband was one of the most popular figures in the film industry.
She explained how working with Njugush and his wife Celestine Ndida aka Wakavinye has forced her to be more visible in the limelight. She states that after quitting her producer job at Citizen TV on Shamba Shape Up Show after working there for nine years, Njugush and Cele asked her if she can refer them to someone who can manage Njugush in September 2018.


"While discussing it with my husband, he suggested that I can hold that role for a while as we look for a permanent person for that role. At that time I only had about seven thousand followers on Instagram meaning I was not that known yet."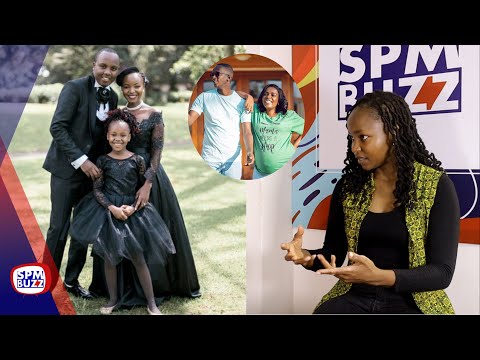 "But I still had a lot to offer because while I was a producer at my previous work, I had to pitch ideas and look for funding and that sort of things. Two weeks later after working with them they asked me to take the role permanently."


She explained that this is how she came to the limelight and her
social media presence
grew exponentially even before her husband started his popular story telling YouTube journey.
She explained how she fell in love with being a manager while working with Njugush. She however highlighted how many stakeholders especially potential clients did not understand why a
content creator like Njugush
needed to have a manager but with time they came to appreciate my role.
She feels like a lot of artists and creative need managers for them to go to the next level but it has to be a very close and trustworthy relationship for it to work. She feels apart from a good work ethic, the artist and manager should be as close as family for it to work.


She went on to confirm that they are not interested and planning to have another kid apart from
their daughter who turned 12 this year.
She asked all those who keep on asking her and her husband why they are not adding another kid to stop asking them those 'stupid' questions as they don't know the reasons behind it.
Many have heard Abel Mutua appreciate Judy as the reason he is where he is currently in life and even the reason he started doing the story telling shows on YouTube during the Covid period which has gone to blow up into a big platform.


Judy and Abel have been together for almost 15 years and seem to always have each other's backs. Theirs is the kind of union that qualifies to be referred to as 'relationship goals'. They represent, together with Njugush and Celestine, a very minute percentage of
celebrity couples
that have worked.