It was not that long ago that news broke that Kibera's street rapper Stevo Simple Boy had broken up with his ex girlfriend Pritty Vishy due to claims that he had been cheating on her all along.
If you can recall, it was also around this time that the fashion enthusiast and content creator quickly rose into fame, after she took to her Instagram page in an emotional video putting the rapper on blast.
In the since deleted video, Pritty Vishy was reacting to the news that Stevo had allegedly cheated on her with fellow upcoming artist Adasah.
Since then, sis has been on quite the roll and to even describe the glow that she has been serving weeks after their breakup would be pointless.
In a recent interview with Mpasho, Stevo has finally come clean on a number of issues, including the real reason behind his breakup with Vishy.
To start off, the street rapper has gone ahead to say that as of now, Pretty Vishy is not his type of ideal woman. Yes, you read that right. I mean weren't they just dating the other day?
Well, according to Stevo, it was in fact Vishy who broke up with her and not the other way around, stating that he never did cheat on her and that the only reason he and Adasah ever linked up was because of the music they were working on.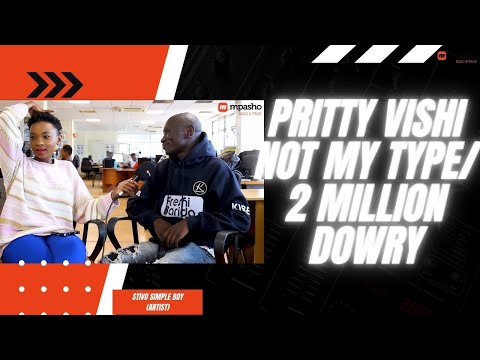 As if that is not enough, he also went ahead to add salt to the already healing wound confirming that it was Vishy who had been cheating on him countless of times and yet, he still chose to stay either way.
The Freshi Barida hitmaker also went ahead to react to Vishy's glow up ever since their breakup, and while many might have thought that he would act or show even the slightest of jealousy or remorse for having broken up with her, he instead went ahead to say that Vishy was doing it all for clout.
From the look of things, it looks like these two will not be getting back together anytime soon as many would have thought; which is quite disappointing for most if not all of their fans.
What got us all the more interested and stunned really was when he later mentioned that he would like to have 50 children with one woman and all the rest of us are left to wonder is, could this be the actual reason they broke up juu wueh!
Was Vishy really going to handle mothering all 50 of Stevo Simple Boy's children?
Speaking of, you will recall that it was just the other day when rumors broke that Vishy may still be a youngin in high school.
This is after she took to her social media to narrate how she and online journalist Eve Mungai met only for netizens to notice one strange detail in her revelation.