Sauti Sol lead singer Bien Aime Baraza did not even know how to drive yet when he bought his first car. That's after a popular female singer urged him to stop using matatus.
Read more:
Sauti Sol's Bien Aime Baraza Opens His Own Club (Video)
Bien is still doing his radio tours to promote his latest single Inauma which he debuted on Kiss FM last week. This time, he made a stop at Mseto East Africa for a candid chat with Willy M Tuva where he revealed that he got his first car because of Size 8.
"Size 8 alikuwa behste yangu for so many years. Tulifanya Safaricom Live na yeye bado akiwa anaimba nyimbo za dunia... amenifundisha mambo mengi about myself kama luku. Mi nikianza usanii ata sikuwa najua kudrive. Nilipata my first car kama sijui kudrive. Lakini hiyo gari nilikuwa ata nisiinunue. Nilikuwa tu napanda matatu bado. Size 8 akanikalisha chini akaniambia, 'Wee bana! Wewe ni msanii mkubwa, uko na ngoma kwa radio. Nunua gari.' Linet [Size 8] ni msee wangu wa karibu."
Read more:
They Only Wanted Sex And Fame- Lilian Muli
The conversation came about Willy asked Bien about other artistes for whom he has written songs. Bien recalled how he realized that he wrote Size 8's new song Yahweh when he heard it being played.
He also dished that he has written songs for Daddy Owen (Mungu Yupo), Savara and Chimano on their solo projects, Tiwa Savage and a German artiste. Perhaps less known is that Bien wrote Nvirii's smash hit Pombe Sigara, as well as the second verse of Bensoul's Nairobi.
Read more:
Another Man Claims He Was With Mrs. Simple Boy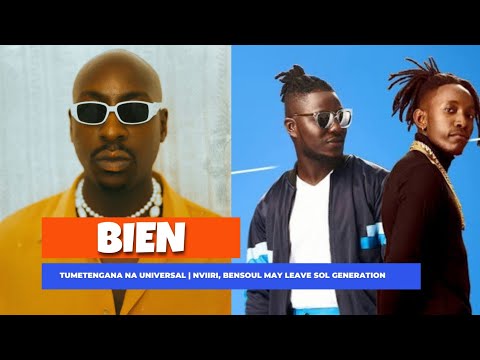 Read more:
Lilian Muli Spotted With Insanely Rich Billionaire
Beef Squashed!
New music seems to have come with a new attitude for Bien. Over the weekend he
buried his long-running feud
with comedian Eric Omondi. The two entertainers appeared to squash the beef on Sunday [July 31] after Eric supported Bien's club opening. The two shared a big hug as they laughed over their matching shoes.
Read more:
Jimal Rohosafi Angers Women, Then... This Happens!
Celebrity interviewer and YouTube content creator Eve Mungai was also in the picture, joining the two ex enemies as they made peace. Eve is known to be close to both Bien and Eric and has interviewed them on several occasions over the course of their beef. We can't help but wonder whether she is the one who brokered the truce.
She posted the golden moment on her Instagram, and aptly used Bien's new song as the soundtrack.
Read more:
Madini Gushes Over Pritty Vishy In New Song
"Spot legends and a lil legend in the making😂😂❤️❤️. Turned up to support @bienaimesol He just launched the baddest Club in town make sure you pass by @themanhattanke and get one for the road😂😂. @ericomondi hukunipeleka na rada ya match matchy shoes."
Read more:
Kate Actress Takes Over Joburg, Meets Her Crush