Grace Ekirapa and Pascal Tokodi are a couple that is envied by many in the country. The couple got married in 2020 at a private ceremony attended by friends and family.
Read next:
Pascal Tokodi and Grace Ekirapa expecting.
Over the weekend Grace and Tokodi held a thanksgiving ceremony for the child they are expecting together. In the event, the couple revealed that actually, this was their second child as they lost their first child in June.
These details came as a surprise to many as no one knew of the miscarriage. Revealing the news
Grace
explained that it was for that reason that she took too long to reveal her second pregnancy. She was afraid of what would happen if people came to know of it and then she loses the baby again.
She further said that she still has the phobia of losing the baby as every time she gets a muscle pull or she is unable to wake up in the morning she gets scared.
"To be honest, when we found out we were pregnant again I was so scared. I think I am until now. Every time I have a muscle pull I cry like crazy, every time I can't wake up because the baby is still on a nerve, I feel like I am losing again," she emotionally said.
She was grateful to her
actor husband
for being there for them during the trying time of the loss.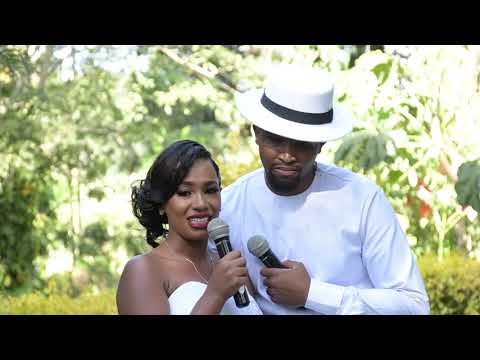 The black and white themed event was one of a kind as Grace would reveal they chose to have a thanksgiving service and invite their close friends and family, unlike a baby shower where she would have invited just ladies.
She further explained that it is a special journey for them and that's why they wanted to have things a bit different.
The couple was dressed in white with Grace wearing an extended off-shoulder white gown and the actor a matching white outfit enhanced with a white cap. On the other hand, the guests were in pure black outfits.

The couple announced their pregnancy
in January accompanied by beautiful baby bump photos. The two never shy from expressing their affection for each other on social media to the envy of many.
This comes just two weeks after another celebrity couple
Nadia Mukami
and
Arrow Bwoy
revealed their second pregnancy after they similarly lost their first pregnancy.
The couple also launched Lora and Safari Foundation to help young girls and mothers through motherhood and parenting.
The couple is eight months pregnant and they said they are expecting to receive their bundle of joy on the 27th of April.