Otile Brown
is a hunted man ever since he announced that he's still on the market. All the ladies want him- not just in Kenya, but also across the border in Tanzania.
Read more:
How Eve Mungai Grooms Her Bush
Break out Tanzanian singer Saraphina Michael is the latest in line to swoon over Otile Brown. Saraphina was on the Mseto Africa radio show with Willy M Tuva where the conversation was brought up about her recent friendship with Otile.
Saraphina has made her mark on the music scene with her song 'Upo Nyonyo' which has garnered over two million YouTube views in only a month. Her growing popularity landed her a spot on last weekend's big Stanbic gig which featured American star Anthony Hamilton, and Otile Brown.
Read more:
Shakilla Reunites With Eric Omondi, Trolls Vera And Mishi
In the interview, Saraphina dishes to Willy M Tuva that she struck up a friendship with Otile in lead up to the gig. "Mimi na Otile tumeanza kuwasiliana hata kabla sijaja Kenya," she confirms. Although she's quick to mention that they only speak as friends and there's no hint of romance. "Mimi na Otile ni marafiki."
When Willy M Tuva presses her about possibility of the friendship leading to something deeper, Saraphina stops short of saying that she would love to date Otile. "Mi nipo single. Otile, if you want my opinion, he's such an attractive man- he's a gentleman."
Read more:
Mishi Dorah Claps Back At Shakilla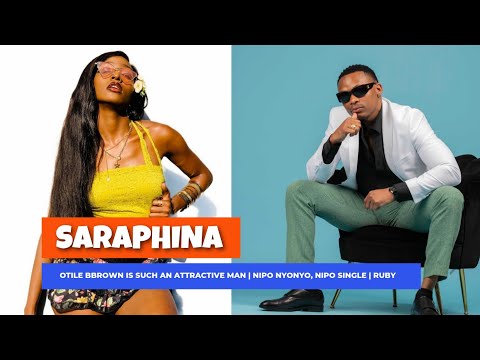 Read more:
Andrew Kibe Blasts Kamene Goro For Constantly Posting Her Boyfriend (Video)
Why it's hard for Otile to date
In July, Otile Brown talked on another radio show, this time on Radio Jambo's Massawe Japanni Show, and got candid on why it has been hard for him to get into a genuine relationship ever since his break up with his Ethiopian ex girlfriend Nabbi.
"Nipo single saa hii. It's really hard [to find someone]. Me being in this position right now, you don't know whether who you're meeting are sincere or not. Any one who you meet, you're kinda vetting them."
Read more:
Bien Got His First Car Because Of This Female Celeb
"If I get a right person, why not [settle]? I'm not searching anyway. Sitafuti kabisa yaani, ila ni ile nachukua muda wangu. Nataka yaani awe ametumwa njia yangu."
In January, Otile and his ex girlfriend
confirmed their amicable break up
. "Nabbi and I are not together anymore," Otile wrote at the time, adding, "The last time we were together was to try and figure out the way forward but we decided to go our separate ways unfortunately."
They had been in a long-distance relationship for several years, and one would think they could have made it work given that they had survived being separated by oceans.
They met while Nabayet was on vacation in Kenya prior to returning to Australia to finish her studies.
Throughout this,
he was accused of attempting to sleep with random girls while on tour, with one such lady eventually outing him while he was on tour in Germany.