The Wajesus family shared some good news with their fans recently as Kabi and Milly announced that they are expecting their second child together.
The lovely couple who work together as YouTube content creators made the announcement on their YouTube channel via a video shared with their thousands of fans. The video was titled
"BIG SURPRISE | WE ARE PREGNANT THE WAJESUS FAMILY".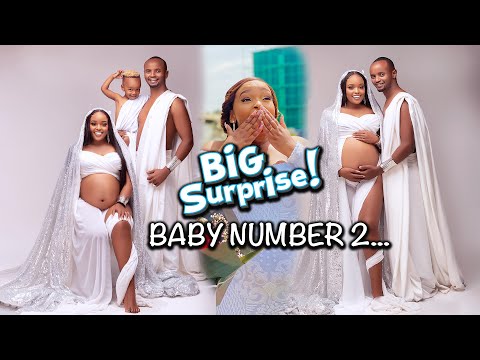 Kabi begins the video by declaring his love for his wife Milly. He acknowledges that they have traveled a long distance together and values the role she has played in his development as a man. He went on to say that he is pleased with their progress as a relationship and that he is excited to see what the future holds.
As we wish them congratulations here at Kelebrity. Some of their fans reacted to their big news and it seems that they have really won back their fans' love following a recent scandal involving Kabi fathering a child with his cousin.
The fans were really impressed with the news as most comments featured them congratulating the couple and some even went as far as to say that they wish they had a husband like Kabi.
Initially, the popular YouTuber denied the allegations, but once the DNA was done and the rumor was confirmed the couple have taken the news in stride. Kabi recently chose to reveal the identity of the daughter he fathered with his cousin.
When Kabi resorted to Instagram to confess to sleeping with and impregnating his cousin,
the Wajesus family
absolutely turned everything upside down for many who were banking on them.
After the confession, their Christian fans rallied on social media and they wanted t
he Wajesus Family Brand
to be dropped and all the money they've made to be given away to his baby momma and cousin.
We're glad to see that they are winning their fans back again following a hard time. Kabi also took responsibility for his child and even introduced her to the world recently. This also made fans happy.