It goes without saying that
Diana Marua
has managed to make her and
Bahati's house a home
. And this end result has flown in the faces of all their haters. I can almost imagine her chuckling with
Bahati
as they replay this particular jam: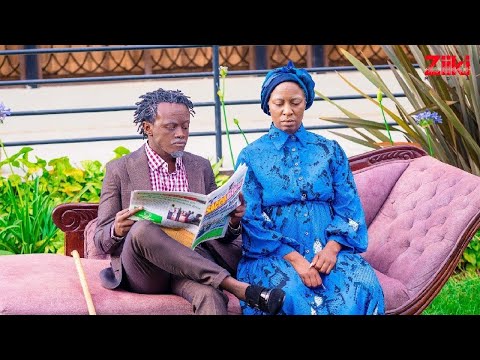 I mean, can you imagine what it's like having everyone second guess your relationship every step of the way? Geez, that is quite some weight they have borne on their shoulders.
That realisation got me asking myself just how she turned the jeers into cheers and the nays into praise. After all, they are serving up
couple goals
and I am hoping to learn a thing or two from this power couple.
So let's make like a swimmer and dive right into some of the lessons these two have served up that would doubtless make even my bedsitter a cosy home. So let's get right at it:
#1. Always support each other
This is where it first starts at. Make sure your partner knows you have their back. Sometimes that means turning your garage and parking slot into a bedroom. Who knows, maybe there are fewer mosquitoes in the car. Or perhaps the leather Mercedes Benz seats work wonders for your back. Who knows? We'll be sure to ask
Bahati
about this one -and maybe a chiropractor.
Also read:
Eish! Diana Marua's 13 Reasons For Loving Bahati
#2. Make the home a safe space
Life is tough enough as it is. Who wants to go off for their day only to return home and have to fight a war? Nah, we have seen how Bahati and
Diana Marua
have turned their home into a refuge. When the haters and internet trolls get too much to bear, they get back home and cuddle their troubles away. Come to think of it, a cuddle a day is just what the doctor ordered to keep all your problems at bay.
#3. Don't be afraid to play

These two love to play. It's almost like watching two little children with these two. The little pranks and gags they play on each other are not just fun for us to watch, they make the home a thrilling playground. Wanna stay with your partner longer? Then how about you play together? Now I'm in the mood for some tickles!


#4. The more the merrier

Diana Marua turned their house into the chill spot for her and the couple's friends. Now whenever they want to take a break from the rigours of life, they call a few friends, enjoy lunch or a BBQ. Some nyama choma anyone?


#5. Leave the house to get a break from it
This is the ultimate life hack that Covid taught us: being cooped up in the house can indeed get boring. So once in a while, follow Bahati and Diana Marua's example and take a break from your house. Hit the bushes or the beaches. Hell, hit Karura Forest for a walk.
Read more:
Bahati Unloads On Our Exclusive Call
See what I said earlier? These two really do have a thing or two for those of us in relationships. I've just learnt a few things I intend to put into practice with Mr Man.
For more hot entertainment content,
click here
.