In the video Pozee is heard asking for directions about where the lady resides, he goes ahead to ask her to pin her live location. At some point, Willy Paul gets mad at the lady's hesitation to give her location and asked the lady how old she is since she is behaving like a kid. "
Mbona unanieka kwa loudspeaker, uko na miaka ngapi boss, nipinnie live location,
" Willy Paul is heard saying.
Read more:
Harassment? Viral Video Of Women Grabbing DJ Joe Mfalme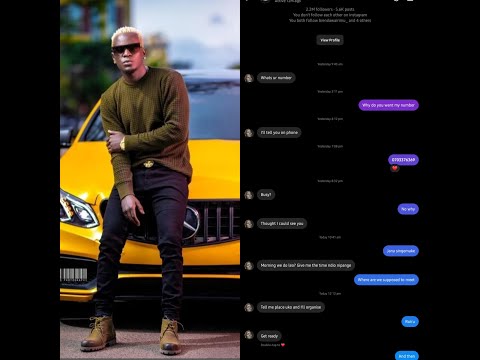 Now Pozze has posted for the first time on his social media since getting busted, and it may be taken as a threat to Majunkie. Without any caption or context, Pozze has posted the picture of a hand gun and a box of bullets.
Read more:
Samidoh Talks Relationship With Bernice As USA Tour Ends
Many people in the comments section tagged Majunkie claiming that the post is a message being sent to him.
PHOTOS:
Inside Cebbie Koks' Gorgeous Bridal Shower
Jovial denies Willy Paul
Jeraha hitmaker Jovial has finally revealed the ins and outs of her relationship with fellow musician Willy Paul. In a Q&A session on Instagram Jovial revealed that their relationship was nothing but business. She went on to say that they both benefitted from the clout and it was all over.
The two a few weeks ago came out to their fans as a couple before releasing a song together shortly after. Many fans saw it as a clout-chasing scheme that was going to eventually die down but even after releasing the song weeks later they still acted like they were dating until now when Jovial has cleared the air.
Fans don't appear surprised with Jovial's revelation as one fan would comment, "Kwani bado kuna Mtu anasema these two were dating? 😂😂 It was just a Showbiz to Sell Pozze's Song La La La featuring Jovial. Na after ngoma ilitoka one week jovial akafuta all photos and videos they took na pozze. But Kwa pozze bado ziko coz the song was Pozze's Business 😂😂🤪."
It all started back in July, Pozze confessed that he couldn't wait to get the sultry Mombasa-based singer under his sheets. This happened
after Jovial posted a teasing pic
of herself. The 28-year-old Gospel-turned-secular music singer left a thirsty comment under Jovial's post saying, "
Wewe nikupata nakukula na ugali ya ushago aki."