On Saturday, 11/13/2021, Kenyan music lovers made their way to Ngong racecourse to enjoy themselves at the Destination Africa concert.
The event which was headlined by Nigerian singer Adekunle Gold, and local rapper Nyashinsk was supposed to be a great and memorable concert for the fans but ended up being a nightmare occasion for many,
including Eric Omondi.
Ahead of the concert, the comedian had been vocal about making sure
Nyashinski (who is considered a legendary act)
was not a curtain-raiser for Adekunle. Omondi had been campaigning for Nyashinski to get equal, if not higher billing at the concert.
On the night of the concert,
Omondi made his appearance
and was predictably not received with open arms by the organisers. His ordeal was revealed via a video on Eve Mungai's Youtube page.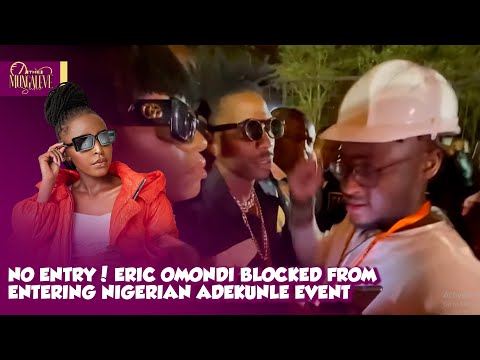 The president of comedy had arrived with his team to make sure that Kenyan artists were not curtain-raising for any international artists. Unfortunately, the event organizers thought that Eric had come to disrupt their event and cause chaos.
Eric and the team had bought their tickets ready to cover the event but there seemed to be a bit of struggle giving them access to the concert. Eventually, they were let in and Eric went about his business to ensure Nyashinski performed last at the event like the big artist he is.
However, in light of all the enjoyment, things took a turn for the worse as fans on social media expressed the event turned out to be a total disaster. Fans complained of theft in the event and claimed that
Ngong racecourse is no longer a safe venue
to hold events. They also pointed out that event organizers should reconsider using the venue or make sure there is ample security.
Some fans also claimed that there were cases of rape at the event.
Fans of Konshens,
Charlie black, and Popcaan have urged event organizers to change their location before it's too late. The above-mentioned acts have expressed a desire to come to Kenya, and fans are worried that cases of theft and other crimes will ll be high at their events as well.
Main image credit:
Twitter