Musician and businessman
KRG the Don
has finally come out to reveal why there is such bad blood between him and content creator Andrew Kibe.
While in an interview with Kwambox and Obinna on the Morning Kiss, KRG revealed that his beef with Kibe roots from him criticizing men like him for standing by their families while he(Kibe) is a deadbeat father who ran away from his responsibilities.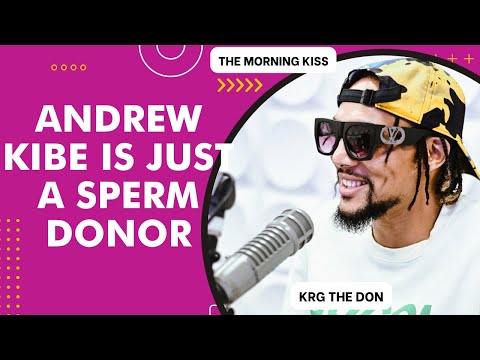 Read more:
'Stop Copying Me' Ronoh Ignites Beef With Kate Actress And Elsa Majimbo
"I have beef with people like Kibe because you cannot start calling out men like us, and who are younger than you and we are holding our families down. I call him a sperm donor because that's what he did then ran away,"
So just recently KRG made a video dissing the American-based Youtuber to which Andrew Kibe responded with an equal diss. KRG had told Kibe that he had no time for arguing with him as he has more important things to do to which Kibe responded by asking him what he does other than making videos just like him.
Read next:
KRG reveals that Amina Abdi and Redsan stabbed him in the back.
KRG divulged that Kibe should be brought back and publicly beaten at Uhuru Park. He even used the whip soundtracks that are popular with Andrew Kibe.
The singer urged Kibe to stay put in the United States of America and look for something to do.
"Kibe wewe uko chini, uko mzee. You are gone, forgotten. Kaa huko Marekani, tafuta kazi hata kama ni kumop kwa hospitali, utapata kazi," KRG said.
Read more:
Gay TikToker Brian Chira Confess His Crush On Content Creator Kibe (Video)
Not too long ago, speaking on his Instagram the singer claimed that Andrew Kibe was jealous of Jalang'o and other celebrities who had won in the August 9, 2022, general elections.
"Me naomba mzee Big Ted akiingia pale Marekani, tafadhali Big Ted kwa heshima yote ya hii nchi tafuta Kibe, funga yeye kwa gunia, rudisha yeye hapa nyumbani," KRG requested.
The singer wanted Kibe to witness all the success of the people he had prophesied to fail in the elections.
"Amtume na parcel, kwa sababu yule hata hana akili ya kukaa kwa ndege. Ameanza kuongea ati ooh Jalang'o utaanguka, utarudi kwa media," KRG stated.
He mentioned that Andrew Kibe should learn to be happy for people when they win instead of
feeling bitter every time.
"Unajua Kibe aliwahi kusimama huko Lang'ata akapata kura moja, yake mwenyewe, hata girlfriend alimbwaga," KRG noted.
Speaking in a past interview with Oga Obinna, KRG talked about his beef with
Andrew Kibe
, saying that Kibe is only bitter with life for his failures. He added that he has been misleading young people through his Youtube show and no one should pay attention to him.
The beef between the two began a few months back after Kibe claimed KRG is a simp for being left by his wife for another man.
The two have since been engaged in an online battle each trying to show is mightier than the other.