Media personality
Kamene Goro
has finally set the record straight about why she is leaving Kiss and her ugly relationship with her former co-host Andrew Kibe.
Kamene, in an interview with YouTubers, started by stating that she had not been fired and that her contract had ended, this was partly what was reported in the leaked statement, which stated that the company saw no need of renewing the contract as her performance was below par.
Responding to a question about her best co-host within the 4 years, Kamene has revealed that Obinna and Jalas were the best, saying that it was understandable why she did not like Andrew Kibe.

She said that Kibe had thought that they would have left the station together, and when she didn't, he started trolling her and spreading false information about her.
However, she has made it clear that there is no beef between them and that she has never reached out to him. Kamene noted after experiencing her other co-hosts, she realized that what she had with kibe was unhealthy.
"Kibe was my friend, when he left, I think he had an expectation that we would leave together, it didn't settle with him that my life took a different turn, I feel like what he does is extremely distasteful, sikumkosea, yeye ndo ameanza kunikosea." An irritated Kamene said.

Kibe had earlier taken advantage of Kamene leaving saying that she is lazy. He has always been bashing her and exposing details about her personal life after their ugly fallout.
Talking about lying about sickness to skip her job, Kamene has refuted the claims saying that towards the end of last year, she was sick, and on the days, she skipped work she had followed protocol.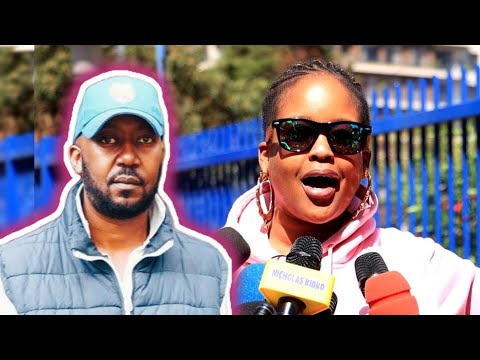 Today was her last day and Obinna praised her for the time they have worked together, the duo has worked together for ten months, and he replaced the Lang'ata Member of Parliament, Jalang'o, popularly known as Jalas.
"Has it been 10 months already? Seems like last week🥱😫. You welcomed me to
@kiss100kenya
& made my transition into morning Radio easy..accommodated my Noise, Drama, and Scandals, taught me how to be a babyboy😜, polished my lingua but above all, you WAS my shoulder to lean on when everything was going south.

You were the only one I could confide in when most of the time the whole world seemed to be against me you were here each morning with warm hugs, smiles, encouragement, and cute uncoordinated dances🙈. YOU KNEW MY TRUTH. You knew Steve was a different person from OBINNA. Wheh!! Today is a hard show. 😭🥵😫😢 MY KAMENE💔...🥺 Goodbyes and heartbreaks are the HARDEST.
Enyewe, nothing lasts forever. Let's finish on a High... I wish you well and will always be a phone call away... mkiwachana na Afande Nipigie🤣🙈 one last show. 2023 imeanza na mbio mbaya I swear." The comedian wrote.