Wife to
Guardian Angel
Esther Musila has yet again been challenged to address a question that netizens have been asking for the longest time, regarding her relationship with Guardian Angel. Speaking to content creators at a recent event Musila was asked when she plans to bear a child for her husband Guardian Angel.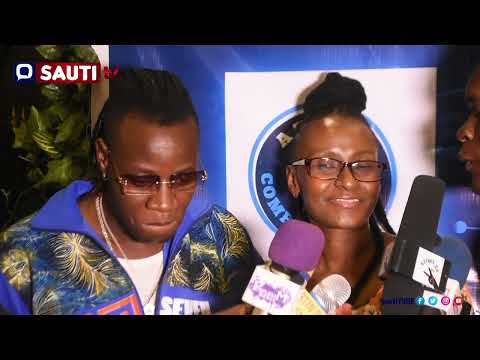 Responding Esther asked why it concerns people if they are going to have children or not. As far as the mother of three is concerned that is a matter that involves just the two of them and society should not put pressure on them whatsoever.
She and her husband are often the butts of internet jokes due to their age difference.
Guardian Angel has clapped back at haters on several occasions as well. The star had a comeback for a troll who had the audacity to pose a terrible question on one of his posts aimed specifically at Esther.
Guardian and Esther tied the knot amid criticism from the public due to the big gap in their ages. As you may be aware guardian Angel is in his early thirties.


Read Next:
Leaked Video Of Guardian Angel & His Wife
Responding to critics, Guardian said that no one has the right to dictate to him the kind of people he should be in a relationship with and those that he cannot be in a relationship with.
On the other hand, Esther has not been entertaining any hate or trolls that are thrown her way out of her relationship with Guardian. If anything their three years relationship has been nothing but bliss to the couple.
Esther and Guardian met through a celebrity mutual friend Maina Kageni. As Esther would narrate, it all started one morning when she was heading to work and Maina played Guardian Angel's song on the radio, and the business lady was quick to ask the radio presenter who had sung the song.
Maina revealed that the song was sung by
Guardian Angel
a musician Esther had never heard of until then. She went ahead to ask Maina if he could link them up and well as they say the rest is history.
The mother of three has also been facing criticism from people who feel she is behold childbearing age and she might not be able to give Guardian Angel any children.
Regardless of the criticism, for the time Esther has been with Guardian Angel she has seen his music career grow exponentially.