A day after a drama ensued during a performance by Harmonize and Eric Omondi at a club here in Nairobi leading to the two being pulled off the stage and anti-riot police throwing teargas to disperse the crowds, the self-proclaimed president of comedy Eric Omondi has come out to talk bout the incident.


Read next: Harmonize Simping All The Way To Kajala's Heart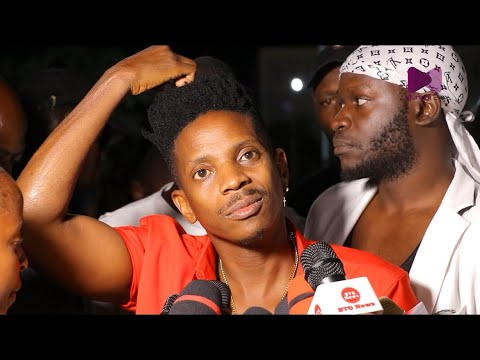 Talking to the members of the press Eric explained that Harmonize was not scheduled to perform in that club as his role that night was just a club appearance.


Ideally, a club appearance is different from an event performance since if it were intended to be a performance then,
Konde boy
would have given a good performance.
Either way, Harmonize bound to pressure from the fans in the club and agreed to perform just for a few minutes to which the fans were not satisfied.



It is that dissatisfaction that caused a riot from the fans. Eric faulted the club promoters saying they are the ones who did not inform the fans that Harmonize was not scheduled to perform hence giving them hopes that were crushed.



Eric further revealed that he stayed locked in the whole night as angry fans were waiting for him to be let out of the police grip so they could attack him. He further said that the incident was unfortunate arguing that the story was trending in other countries and it was not a good image to portray, as other artists will see that and have the fear of ever coming to Kenya.


Harmonize has not spoken concerning the incident though Eric Omondi revealed that he was not impressed with how things turned out.


Nonetheless, Eric and Harmonize have other events still planned out for the long weekend both in Nairobi and Mombasa and has said he hopes people will turn out in big numbers.
There was concern that not many Kenyan artists have been invited to that show where Harmonize will be performing and in the defense, Eric has said that since its the first edition of the show they are looking to have grassroots artists given the chance and the platform first, before they could include other big Kenyan artists, the likes of Otile Brown and Khaligraph Jones.


It is not the first time Kenyans have turned against artists for poor performance as they have done in the past. An event in which Davido was scheduled to perform left fans very annoyed after he performed for a few minutes and left.


While still in the country Harmonize has expressed interest in working with Kenyan artist Embarambamba saying that he is quite an entertainer.


He said this while in an interview with Willy M Tuva alias Mzazi on his radio show at Citizen Radio.


Harmonize has already worked with a number of Kenyan artists in the past Including Otile Brown.