So Eric Omondi is not just a Chrysler holder,
he just acquired a mansion in Karen. According to Eric, the property is worth one hundred and forty-one million Kenya shillings. The problem now is, the property is listed as an Air BnB. So why did Eric say that it is his and that he bought it a few months ago? Well, maybe it is and the Air Bnb website is just a little bit slow in updating its listings.
Probably it is time for the website to take this property off their listings.
I have been in this house for two weeks. We acquired it a month ago. I acquired it a month ago. Nataka kwanza tufanye house warming. Tufanye kama ile ya Mr Seed.
Eric Omondi said that the main reason he bought this house was to protect himself from the threats he has been receiving on his phone.
Ever since the comedian went public and revealed that he is supporting Jimmy Wanjigi come next year as he will be running for the presidency. When he started his campaign, he had this slogan,
fagia wote,
where he wanted young people to take up leadership and the older people in government should be done away with. Eric now says that his statement didn't well with many people.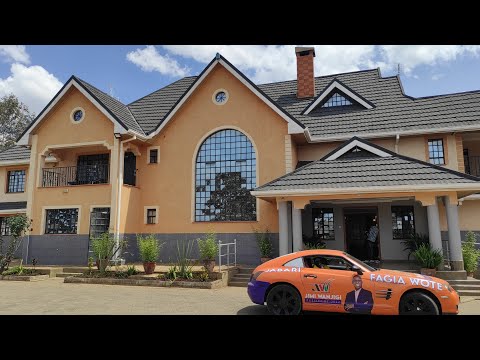 Saa hii maisha yangu lazima niichunge. Body guards wangu sai kibinafsi ni wale wasita. Hii nyumba tulinunua one and a half months ago na nimeishi hapa for three days. These people (who threw stones at Jimmy Wanjigi) were sent by somebody to disrupt our candidate. They were paid. Hawa watu huwa wana rehearse hadi. It was a plan.
Talking about his relationship, Eric says he is single and people should avoid listening to things that are being said about him: that he has so many women. Eric says he is actually very single and ready to meet someone special.

After date 19th bado nitakua hapa. We are about to launch something on 19th. Mnitafutie mtu. That's why niko single. People believe that niko na watu. Ni propaganda, ni porojo huko nje ndio nisipate mtu.
Eric Omondi doesn't just concentrate on being a comedian.
As you can see, he has declared his interest in politics. Only God knows what he will do come the year 2027. Is he going to run for the presidency? I mean, he is already a self-proclaimed president of comedy. I wouldn't be surprised.
What do you think they are about to launch?
Eric says it is something big. Do you think it is a continuation of wife material season 2? I don't know why that's what's on my mind, remember he said that season 2 would be bigger and better.