During a live interview with famous YouTuber, Eve Mungai, the self-proclaimed king of comedy, Eric Omondi, let it slip that he does not have any idea where his baby mama, Jacque Maribe, relocated to with their son.
Read Next:
Shakila Goes On Epic Rant
The two parents
, of a baby boy called Zahari, were having a phone conversation on the Eve Mungai show where Eric had put Jacque on his phone's loudspeaker. Jacque proceeded to question her baby daddy on why he does not take care of their son.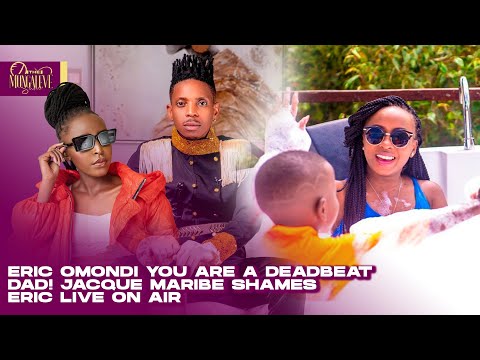 The two exes had a go at each other on-air, on one hand,
Eric
claimed that he takes care of his son while on the other hand, Jacque was adamant in insisting that he has not done anything for their son for seven years.
Eve seemed to be a bit
disappointed with Eric
, considering the two are friends. The host mentioned to Eric that how come he was ready to take care of a fake pregnancy with Miss P but was not taking care of his existing son with Jacque.
From the look of things in the interview, Eric was laughing the whole time and not taking anything that Jacque was talking about seriously. Jacque also revealed that the famous comedian is not sure of the school Zahari attends and
doesn't even contribute to the school fees
.
Eric claimed that he is involved in his son's life as he bought him a phone so they could communicate with each other. Unfortunately, Jackie did not take this statement lightly and asked him if buying a phone for Zahari was the only thing he had done for seven years.


All this drama started when the comedian saw it wise to post a picture with singer Miss P via Instagram, noting that she is five months pregnant and that he will take care of all the responsibilities. This post was all sarcastic in Jackie's eyes considering the comedian does not take care of their son.


Seems all the clout chasing for Miss P and Eric Omondi has turned on them.