Mugithi superstar Dj Fatxo has yet again addressed and cleared the air on the rumor that has been spreading for a long time concerning his relationship with former Murang'a Woman representative Sabina Chege.
The rumor was that there has been a relationship booming between the two and that the lawmaker was the one who bought the singer his sleek 3.9 million Mercedez Benz.
Read more:
Amber Ray Gets Reflective After Rapudo's 'Fake Life' Exposé
Clearing the air in an interview with Mpasho, the singer said that his relationship with Sabina Chege has been purely business and behold that they remain as good friends. He also watered down the claim of Sabina Chege buying him a car and said that the car was bought through his hard-earned money in music and his savings.
Read next:
Thee Pluto says he was a cabbage vendor
He says the car was to reward himself for all the hard work he had put into his music.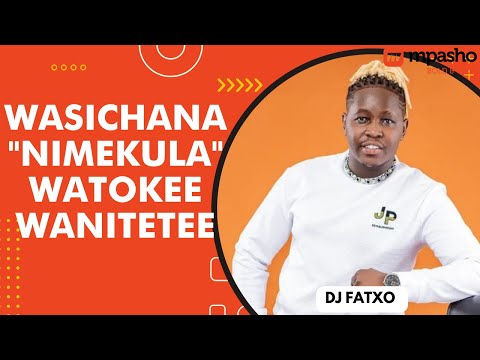 The Dj left his followers in amazement last year after he built his parents a new house and furnished it fully. He went further to reward his girlfriend with a brand-new car.
Read more:
Mr. Seed Pulls Wife From A Live Interview In Attempt To Dodge Baby Mama Questions
Dj Fatxo has been a person of interest in the case involving Jeff Mwathi's death seeing that Jeff died while in his house. He was however cleared by the court for lack of evidence implicating him.
A few days ago the singer posted a video expressing his gratitude to God for helping him through all this process and thanking his family for always holding him down and standing by him in all the challenges that befell him.
Read next:
May He Never Find Peace, Jeff's Grandmother Spells A Curse On Dj Fatxo
"Also thank you Lord for keeping me safe. You protected me from a lot of things. You helped me make better choices and provided me with advisors to help me with life's difficult decisions. You spoke to me in so many ways so that I always knew you were with me.

And Lord, I am so grateful for keeping those around me safe and loved. I hope that you provide me with the ability and sense to show them every day how much they matter. I hope that you give me the ability to give to them the same kindness they have provided to me." the post read in part.
Dj Fatxo is not the only celebrity who has been accused of being in a relationship with a politician. Thee Pluto has also suffered the same accusations. For a long time, the content creator was accused to be in a relationship with politician Wangui Ng'ang'a.
Read more:
Eve & Trevor Anniversary: Best Couple Goals Pics
The content creator came out to deny the rumors adding that Wangui and he are just friends and she is more of a mentor to him.