As the political season enters its climax we have started seeing celebrities strategically align themselves with various political candidates to reap from the campaign money.
Read next:
Bahati and Diana give excuses.
The latest celebrity to make the move is Mtoto wa Mama Bahati. The musician went on Instagram yesterday to announce that he has recorded a song with none other than Baba,
Raila Odinga.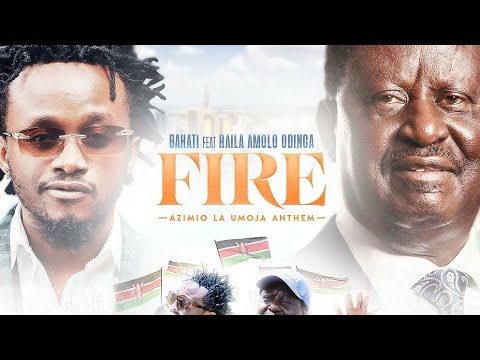 Fire, the song is recorded with Raila's bytes that have been captured in the campaign trail. Less than twenty-four hours after its release the song has already received more than 300 000 views on Youtube.
The song video has different political leaders in support of Raila Odinga's presidential bid appearing. It also pours praise on the ODM party leader outlining some of the things he intends to do for the people once he is in power. This has been seen largely as a strategy to woo the youth and fans of Bahati to Baba's side.
There has however been an argument that when artists align themselves with different political organizations they lose touch with their fans as not all fans get aligned to those celebrities' choices.
The song is expected to be a political anthem for Azimio la Umoja campaign.
Bahati is among the artists who have been reaping big from political campaigns in Kenya. In the 2017 general election, the Mi Amor hitmaker was again on the campaign trail, then supporting the Jubilee
presidential candidate Uhuru Kenyatta.

The singer created mixed reactions among his fans and there was a debate across the country back then after he removed the president from his seat and sat on it during a performance on the campaign trail.
Many people felt that he had disrespected the head of state by doing that.
Other musicians have also been leaning on different political outfits, among them
Khaligraph Jones
who has chosen to work with
Deputy President William Ruto political
alignment.
The artist who has however reaped the most during campaign seasons is the Kikuyu singer Ben Githae who Kenyans fondly remember for the Ndani To The State House, a song he sang in support of Uhuru in 2017.
Whether this is good news or bad news Ben Githae is back with a remix of the same song now in support of
Raila Odinga
as well.
Whether the artists gain or lose fans due to their support of different political leaders, the bottom line is their support pays handsomely as they don't do it for free.