When Bahati went out crying yesterday after he was asked to forfeit his ambitions for Mathare parliamentary seat, we all knew and were expecting that Andrew Kibe will not just have something to say about the whole matter, but a lot of things to say.
Well, he did speak and boy didn't he descend on mtoto wa mama with fury. Well to begin with Kibe started by criticizing Bahati's hair arguing that a man with the dreams of becoming a member of parliament ought to look a bit more presentable.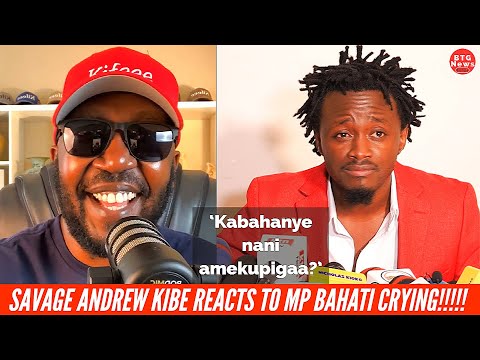 He even threw shades at the singer calling him childish because of his hairstyle. Does the name suit him now that everyone calls him mtoto wa mama?
Well, Kibe didn't stop there as he continued the roast pointing his guns at the ladies who were seated with Bahati at the press conference. His argument was that Bahati had been forsaken by the men he calls his friends and had now been left alone at the time of need.

"At this point, if this guy wants to be an MP, then he needs to have some men around him. How can you be a man who has women around, and he wants to be a leader?" he questioned.
He further wondered where the likes of DK Kwenye Beat,
Kabi Wa Jesus
, and Simon Kabu were, as they are the men who Bahati identifies as his boys.
After serving us the appetizer Kibe then descended on the main course which was the aspect of the singer crying. According to Kibe, Bahati has been a good student of Diana when it comes to crying.
He said this as he revisited the scenario where Diana was faking tears accusing Willy Paul of raping her. The Youtuber further joked that Bahati and Diana had rehearsed the scene of him crying the previous night to impress the cameras.
According to Kibe a man's tears should not be seen, he said this by giving the
example of Raila Odinga,
by explaining that despite Raila having a bad eye he never allows the public to see it tear.
He further explained that when a woman cries it's because she wants to manipulate someone into doing something but when a man shows his tears it is absolute weakness and abomination.
Kibe advised Bahati to man up wipe his tears and go to the people of Mathare like a man, even if it is as an independent candidate.
The history of Kibe's feud with Bahati did not start yesterday since the content creator has been on Bahati's case before. He accused him of allowing himself to be dominated by his wife Diana.
So do you agree with Kibe's views or not? Let us know in the comments.