We all know Amber Ray and her stories of drama with men. But this time she has revealed the story of her life that has never been in the public light.


Read next: Amber Ray Opens Up On Why She Only Dates Wababaz

Did you know that the curvaceous lady has ever been in a toxic relationship? Well, now you do. Amber narrated to Obinna on his Toxic boyfriends' show on Youtube.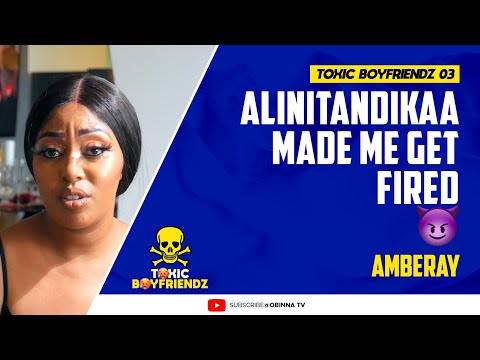 Well, Amber narrated to Obinna that when she started dating her baby daddy, their relationship was to be admired as people had nicknamed them Beyonce and Jayz. According to her, things started changing after she got pregnant with her son.


The boyfriend started mistreating her to a point of pouring cold water on her and her baby while he was still an infant.
Amber
says she regrets that she still forgave him and got back together with him even after everything.
Then it happened that she later got a job at the casino where they were working together with the boyfriend. Things only got worse as the boyfriend started getting jealous of her interactions with the men that came to the casino.


She however says that she never cheated or even thought of cheating on him. His jealousy kept getting worse and one day he became so violent with her that her younger brother came to her rescue. Amber narrates that the boyfriend would mercilessly beat her up like a dog.

The last time he did that he left her with a black eye and a swollen face. It further led to Amber losing her job at the casino. She says that night, she walked back home to her parents barefoot.


She however says as much as they have a bad past with the man, he is still the father of her child and they have a close relationship with Amber's son.


Amber has advised all ladies or men who are in a relationship where they are not happy or being mistreated to walk away and prioritize their happiness and peace of mind.
This explains why she is always too quick to step out of a relationship when things start to look like they are going south. According to Amber if you can't be a happy parent even your children cannot have a happy life.

She has discouraged people from staying in toxic relationships praying for their partners to change, and instead to focus on finding their peace away from their abusers.
Amber has since been in relationships with several other guys all of which didn't end well. The other one which was equally dramatic was her relationship with businessman Jimal Roho Safi.


The relationship ended dramatically as Jimal was already married to Amira. The love triangle became sour and Amira decided to leave the table accusing Jimal of disrespecting her. Shortly after Amber also left the businessman and deleted the tattoo she had of him.


When all is said and done what's important to note is nobody deserves to be in a toxic relationship and anyone who is in one should just leave and find peace elsewhere.