They say death comes in threes, but apparently, so do bitter boyfriends.
Read more:
Peng 'Nyonyo' Singer Wants Otile Brown
Just how many men did Stevo Simple Boy's new fiancé have? And how many more will come out? Now a third man has come out to claim that Stevo's lady was his girlfriend up until last week.
Read more:
How Eve Mungai Grooms Her Bush
The man who goes by the artistic name Watatesa confirmed that Mrs. Simple Boy aka Gee, also goes by another name- Stargirl Moly. He says that they met on TikTok in March and started dating in May, until he was shocked by the viral video of Stevo's proposal.
Speaking on the Presenter Ali YouTube channel, Watatesa said he was still nursing heartbreak from how events unfolded. He says that one week before the proposal, he had a little argument with Gee and they decided to take a little break from each other. But when he found out about the proposal, he scrambled to text her but didn't get a response until the day after.
Read more:
Shakilla Reunites With Eric Omondi, Trolls Vera And Mishi
"Tumeanza kuongea siku ya pili toka hapo. Akaniambia wewe tulia tu."
Watatesa says that he suspected something was up when he took Gee to Garden City for Stevo's video shoot. He also leaves a warning to Stevo that Gee would do the same thing to him. He ends the video saying that he's still in love with Mrs. Simple Boy.
Read more:
Mishi Dorah Claps Back At Shakilla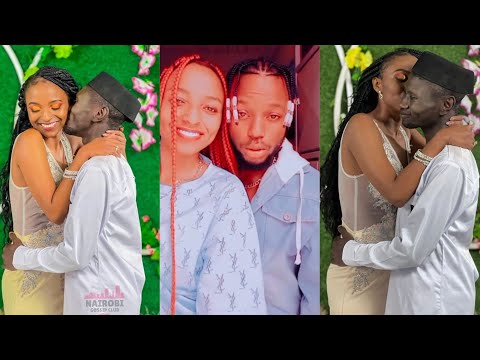 Read more:
Andrew Kibe Blasts Kamene Goro For Constantly Posting Her Boyfriend (Video)
All Mrs. Simple Boys men
On Saturday [July 30],
Rapdon caused online scenes
when he claimed that Stevo's new fiancé, Gee, is his girl and that the Freshi Barida rapper stole her from him. Rapdon even showed receipts of himself and the now Mrs. Simple Boy hanging out and looking intimate in some past TikTok videos.
Read more:
Vincent who's an online content creator can be heard in the above video posted on his Instagram stories referring to Gee as "my baby boo, my baby girl". Unlike Rapdon, Vincent is not claiming to be dating or to have dated Gee. He says that their encounter was brief and only sexually transactional.
Read more:
"Watu Hutoka Far" Aggie The Dancer Shares Throwback Photo
"Lemme come clean, me and STIVO SIMPLE BOY girlfriend we met last year DEC while I was in Mombasa. We had a two night stand. No strings attached so I have never dated her."